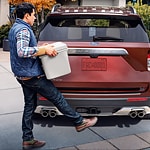 Having a popular and innovative three-row SUV can make driving your family around so much easier. It comes with exciting design features that are ideally suited for large families. Find out why they also make the new Ford Explorer a great investment for your household today.
One of the main reasons why this three-row SUV is optimally designed for families involves its luxurious yet practical interior. The seats are covered with soft-touch upholstery while fixtures like the dashboard and center console are covered with easy-to-maintain faux leather.
The interior also features micro stitching to hold together the upholstery and textiles. You can pack your entire family in knowing that they cannot damage or ruin the interior.
Also, find the new Ford Explorer with signature Ford Explorer badges. The badges denote not only the brand that made your new SUV but also its trim. The badge complements the exterior color of the vehicle.