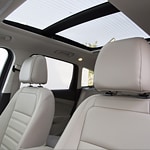 As a popular and sporty compact SUV, the new Ford Escape offers some of the best convenience features in the new car industry. Discover why these features work to your advantage and make the new Escape is a great investment for your family today.
To begin with, the new Escape from Ford comes with an easy-to-use liftgate. You can open the gate with the touch of the back end of your vehicle. Simply tap it with your hand or leg to activate its lift motion.
The new Ford Escape also has plenty of room for the whole family. You can pack in as many as five people in your new SUV.
There is also ample cargo space in the back for packing in groceries, suitcases, sporting equipment, and other gear in the back of your vehicle. Finally, pair your smartphone with your SUV to access your favorite mobile apps while you drive.